Life sciences
A cornerstone of the Swiss "Health Valley"
Thanks to its location at the heart of Europe, the high-quality of its infrastructure and a hugely qualified workforce, Geneva has attracted a very large number of companies and research centers in the field of life sciences.
The Swiss "Health Valley" stands out today as the "leading research pole for life sciences on the European continent", according to the prestigious 'Science' journal. There are over 200 companies active in the fields of pharmaceuticals, chemistry, biotechnology and medical devices specifically in Geneva.
The local ecosystem is undoubtedly the key to this success. Geneva's environment is one in which world-renowned companies and innovative start-ups coexist and work closely together. In addition, state-of-the-art research is undertaken in the canton's universities, colleges, laboratories and R&D centers. Overall, this creates a strong growth dynamic.  
An unparalleled dynamism
For example, Covance is one of the world's leading drug development companies. In 2015, this American company chose Geneva as the largest pharmaceutical subcontracting site in Europe. In 2019, Bracco Imaging, a leading Italian multinational company in the field of contrast products for medical imaging, confirmed the expansion of its R&D and production activities here. Another illustration of Geneva's dynamism is NovImmune, a spin-off from the University of Geneva. Having developed and contributed to the marketing of a treatment for patients suffering from a rare disease, NovImmune now focuses on the production of bispecific antibodies for therapeutic applications.
The University and University Hospitals of Geneva (HUG) play a leading role in the academic field. In the international ranking for scientific publications, the University of Geneva is rated second for molecular biology and genetics. HUG, meanwhile, hosts numerous scientific groups involved in medical research, clinical medicine and dentistry, and develops clinical trials with large pharmaceutical companies.
Source of concrete results
The canton of Geneva also benefits from the "BioAlps" association. This busy and diversified science centre promotes synergies and collaborations, and brings together more than 5,000 students drawn from nearly 40 academic and research institutes.
Finally, the Biotech Campus is also a key player in the sector. It melds academic, clinical, industrial and entrepreneurial strengths to foster the development of innovative projects. The site is home to Sophia Genetics, a company specializing in data analysis solutions helping healthcare professionals better diagnose and treat patients, as well as the Wyss Center for Bio and Neuroengineering.  
1000
players active in the field of life sciences.
39
cutting-edge and world-renowned research institutes.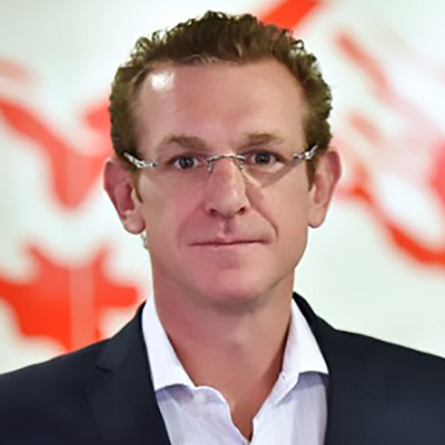 "As a healthcare consulting firm, we needed a centrally located headquarters. Being based in Geneva, where you can find an outstanding local talent pool, allows us easy access to our clients across Europe; usually day trips are possible to most other major cities. The quality of life in the Geneva area is unbeatable, but what I like best here is the people: friendly, multi-cultural, with international flare.  You can make new friends just about everywhere in the city."
Sean Robbins
Managing partner, Lattice Point