LET'S TAKE IT SMART !
Reusables, just know the chorus !
Reusables, just know the chorus !
Single-use take-away containers are everywhere and have a considerable impact.
Solutions are available to everyone so we can reduce our waste together and put an end to disposable containers.
 

 Listen to the playlist Emportons malin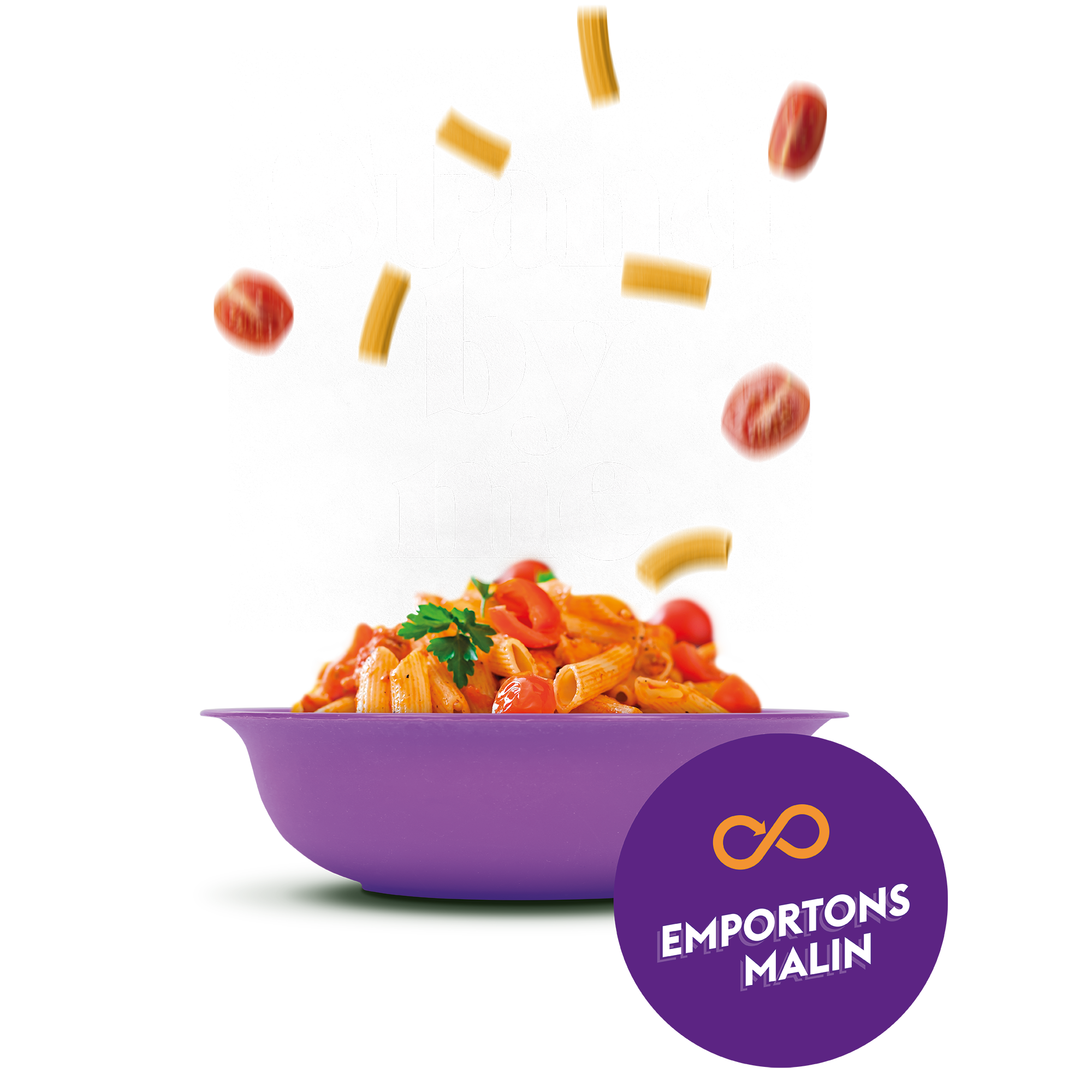 I bring my own reusable container
OR
I take a reusable container from a partner store or restaurant 

I choose my meal, fill my container
AND
Enjoy my meal
Without changing my habits or my menu .

I wash my container and reuse it 
OR
I return my reusable container to a partner restaurant within the day without washing it
Switch to reusable tableware… ...
The restaurant network
Restaurants have to accept your own clean containers. Many provide simple reusable container solutions. Discover all the partner restaurants through our map.
You offer reusable containers and are not on the map ? 
Would you like to offer reusable containers in your store ? 
Send us an email : ge-environnement@etat.ge.ch
Reusable tableware for everyday use
I use restaurant-provided reusable containers when :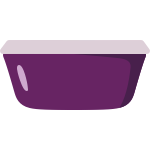 I don't have a container with me 
You go to a partner restaurant and forgot your box or cup? No worries, you can borrow a returnable container free of charge in exchange of a deposit at any of our partner restaurant. .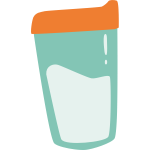 I don't want to bother myself
You took a reusable container for your meal and don't want to have to take it home ? No problem, you can take it back to any of our partner stores or restaurants.
The deposit system, how does it work
In Geneva, reusable tableware solutions are available for the take-away sector to replace disposable packaging.
You pay a deposit at your favorite partner restaurant
At a cost of CHF 10.00 for the meal boxes and CHF 5.00 for the cups, you will receive a clean, ready-to-use container for your meal breaks. All you have to do is choose the menu ! 
And thanks to the reCIRCLE app (Google Play, Apple Store), you can borrow a container without even having to pay the deposit !

Enjoy your meal wherever you want
At the park, at work or even at home, the reusable containers are airtight and easily transportable.
You take your container back to a partner restaurant 
You get your deposit back.
 … or you wash it 
And you can use it for your next take-away meal.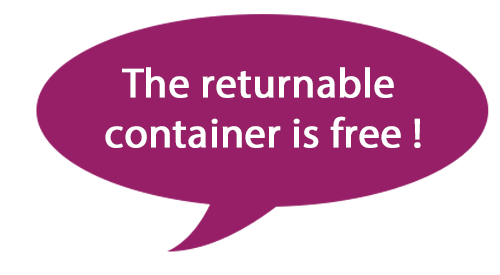 The City of Geneva is offering several hundred reusable boxes for free available to the public (while stocks last).
Go to the information points of Servette and Plainpalais, as well as to the Espace Ville de Genève on Boulevard Carl-Vogt to get a reusable lunchbox !
My daily personal container
I use personal containers when :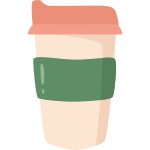 I want to adapt my container to my needs
I can use the most convenient containers for me, dedicated to the meals I usually eat. Shape and materials, it's my choice !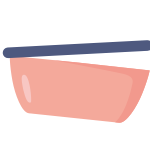 My box and I, everywhere
Even outside of the partners network, stores have to serve me in my own clean container. Some may even offer a discount !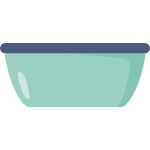 I want to extend the approach to all my purchases
Bread bags, snack boxes, vegetable nets, bulk purchases, retailers welcome reusable solutions. More info on achetezenvrac.ge.ch ! 
Reusable tableware is suitable for all occasions ! At the office or at home, they are practical and airtight and produce no waste. Whether you prefer to bring your own container or adopt returnable dishes, reusable tableware are a simple reflex to adopt on a daily basis... it doesn't change anything, but it changes everything !
Episode 1 : Habits die hard. But at home or at the office, reusable tableware for take-away are the easy way to go.
Episode 2 : Less packaging without changing your menu ? Reusable tableware is THE solution to clean up your kitchen.
Episode 3 : At your favorite restaurants, take your meals in reusable, personal or returnable tableware !
Business communication kit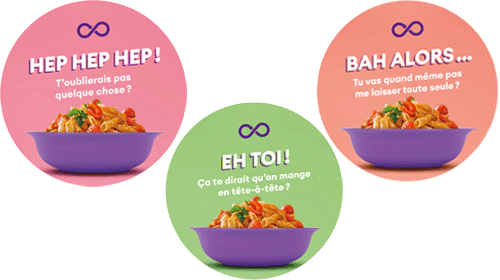 Are you encouraging your employees to use reusable crockery for their takeaway meals ?
We have a range of materials to help you communicate with your employees and the outside world.
a poster
reminders
stickers
a set of visuals for posting on your social networks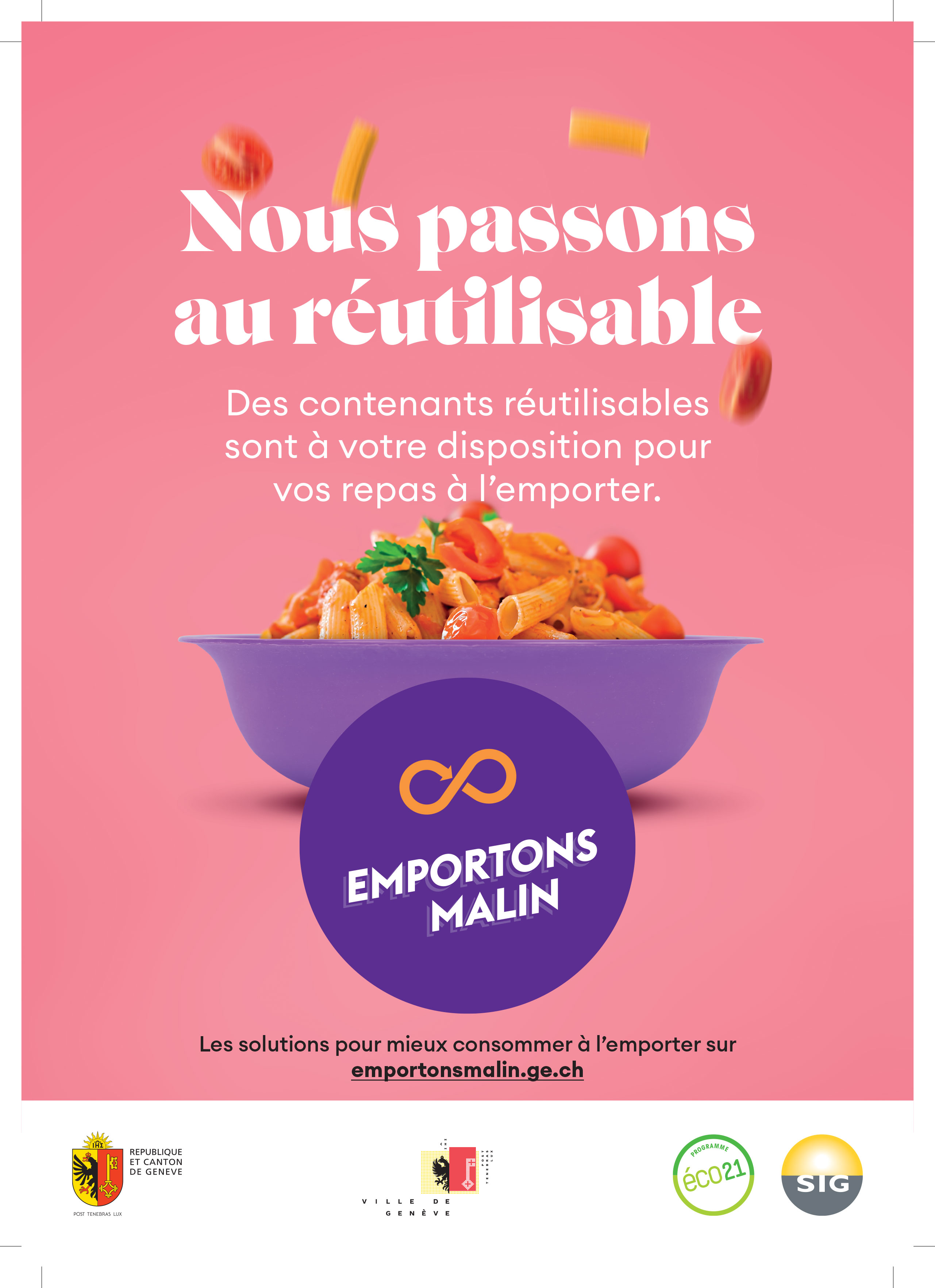 Restaurant communication kit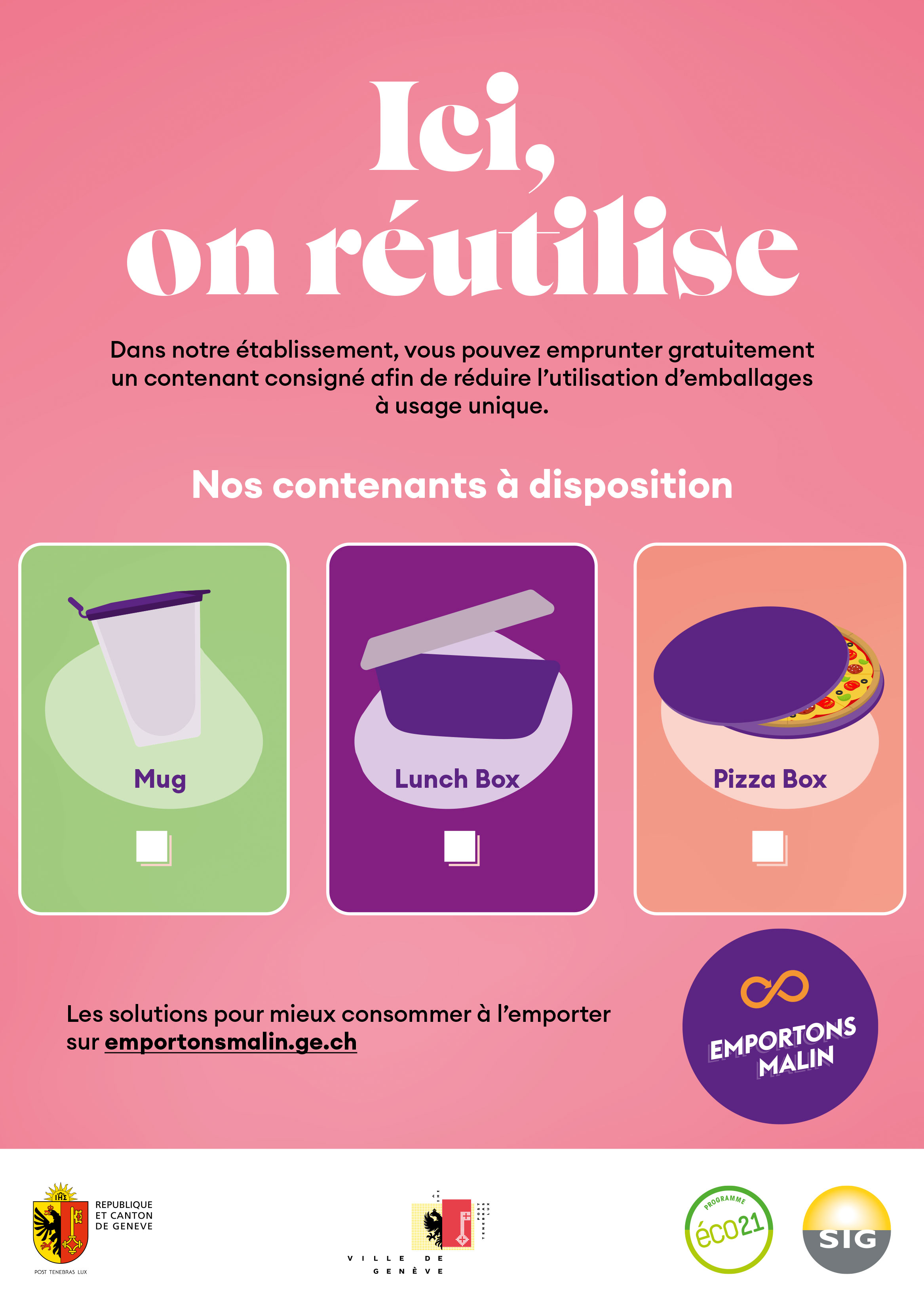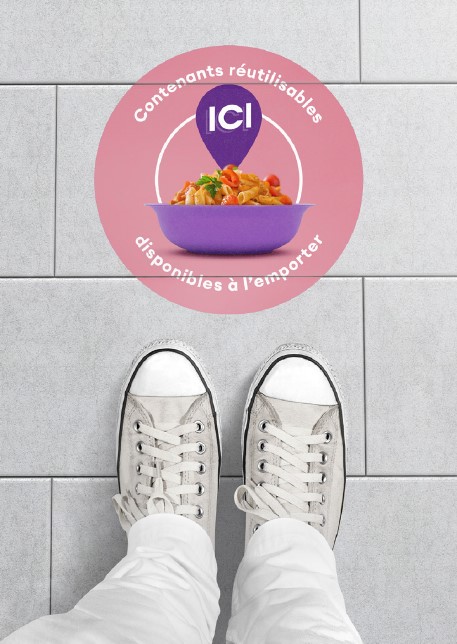 Stickers in three sizes:
30 cm diameter, to place on the floor,
10 cm in diameter, for display windows
5 cm diameter, for a menu
Would you like to encourage your customers to use reusable containers for their takeaway meals? We can provide you with a range of materials to help you do just that:
a poster
stickers in three formats: 30 cm diameter, to place on the floor, 10 cm in diameter, in a shop window or 5 cm diameter, on a menu
a set of giphy stickers to use on your digital content
a loyalty card and a poster promoting the loyalty card
The numbers of the take-away consumption
70
of consumers
would like to use less disposable packaging.
(source = Enquête sur la restauration à emporter, EdG, 2021)
50
of the take-away consumption
takes place in the professional context, at lunchtime.
(source = Enquête sur la restauration à emporter, EdG, 2021)
18500
tons of plastic
take-away tableware are littered every year.
(source : Rapport "Les matières plastiques dans l'environnement" en réponse aux postulats Thorens Goumaz, Munz, Flach et groupe PDC, Office fédéral de l'environnement, 2022)
107
is the annual cost of littering
of food and drink take-away packaging for municipalities and public transportation societies in Switzerland.
(source : le littering a un coût, Office fédéral de l'environnement, 2011)
10
is the price of the deposit
for a reusable lunch box,
5.- francs for cups.
Your questions about reusable tableware