2. Scope of the COVID certificate
1) Scope of the COVID certificate in Switzerland
During its session of February 16th, 2022, the Federal Council decided to lift most of the national measures for an enhanced implementation of the COVID certificate to fight the spread of the coronavirus. This concerns in particular the 2G and 2G+ rule inside certain establishments such as cinemas, theaters and restaurants, as well as the 3G rule for outdoor events from 300 people.
If it helps to protect the health of persons present, especially vulnerable persons, operators of facilities or managers establishments with public access and event organisers retain the option of limiting access only to persons with a COVID-19 certificate.
All COVID certificates remain therefore valid in Switzerland until their expiry date. At this stage, it is recommended  to keep a copy of your certificate in PDF format and not to delete the COVID Certificate App from one's mobile phone.
Since 17th February 2022, COVID certificates recognised only in Switzerland - namely the Swiss COVID vaccination certificate for tourists (30 days), the Swiss COVID recovery certificate on the basis of a positive serology or a positive rapid antigen test and the Swiss COVID-19 derogation certificate - are no longer issued.
2) COVID certificates for travelling abroad
Euro-compatible COVID certificates
While the national requirement to present a certificate in Switzerland has been lifted since 17th February 2022, Switzerland continues to issue euro-compatible COVID certificates as some countries still require a COVID certificate for entry into their territory or access to certain sites. For certificates relating to a vaccination or an infection diagnosed abroad, the issuing is limited to persons of Swiss nationality or with a residence permit. 
Unless otherwise stated, the COVID-19 certificate is recognised by the EU and EFTA States and by Turkey.
 
Types of euro-compatible COVID certificates issued in Switzerland and their validity period
The end of the national certificate requirement since 17th February 2022 also means the end of the issuance of certificates that are only valid in Switzerland. These were introduced in the autumn of 2021 in order to allow a wider circle of persons access to institutions, establishments and events subject to the obligation to present a certificate in Switzerland.
Euro-compatible certificates that continue to be issued in Switzerland are the following: 
COVID-19 certificate of vaccination valid for 9 months : 
- As of the booster dose. 
- As of the last dose of a complete 2-dose mRNA vaccination schedule or 1 recovery + 1 dose or from the 22nd day after the Janssen® vaccine dose.
 
COVID-19 certificate of recovery after SARS-CoV-2 infection valid for 6 months : 
- Following a positive PCR test and from the 11th day after the positive result.
 
COVID-19 test certificate following a negative test result for SARS-CoV-2
- Valid 24 hours in Switzerland and 48 hours in the Schengen area after sampling for a rapid antigen test, and only following a nasopharyngeal swab.
- Valid 72 hours for PCR testing.
With regards to international passenger transport, the length of time before the COVID certificate is valid and the length of validity of the certificate may depend on the rules in force in the country you intend to travel to as well as the countries through which you may transit. It is therefore always necessary to find out about the entry conditions in terms of sanitary measures of the country you wish to travel to or transit through.
The Geneva University Hospitals (HUG) tropical medicine and travel unit provide a summary document with the list of country requirements in terms of medical certificates, PCR test, antigen test (RDT), COVID certificates of recovery or Covid vaccination certificates (in French only).
3) How to o

btain a COVID certificate

Depending on the personal situation of each individual (vaccination; cured and documented COVID-19 illness with or without vaccination; negative PCR or antigenic test), the procedure for obtaining a COVID certificate is not the same. In all cases, the COVID certificate is issued free of charge.

People who are vaccinated with a single dose of Janssen® vaccine receive a COVID certificate of vaccination which is valid for 22 days after the injection. During this period, they can undergo rapid antigenic tests freely to obtain a valid COVID test certificate.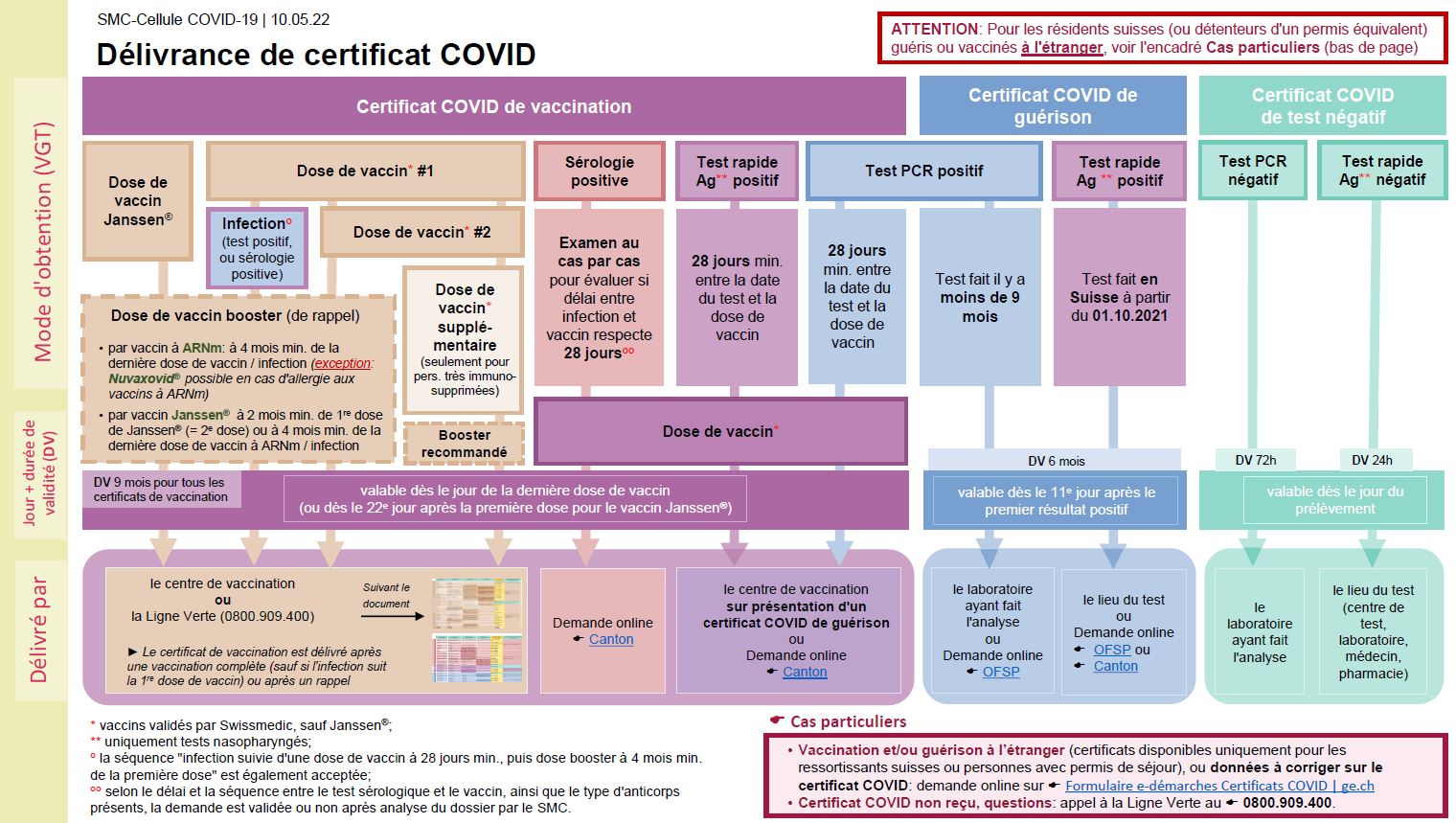 Download the document (in French)  Délivrance de certificat COVID
Ligne verte